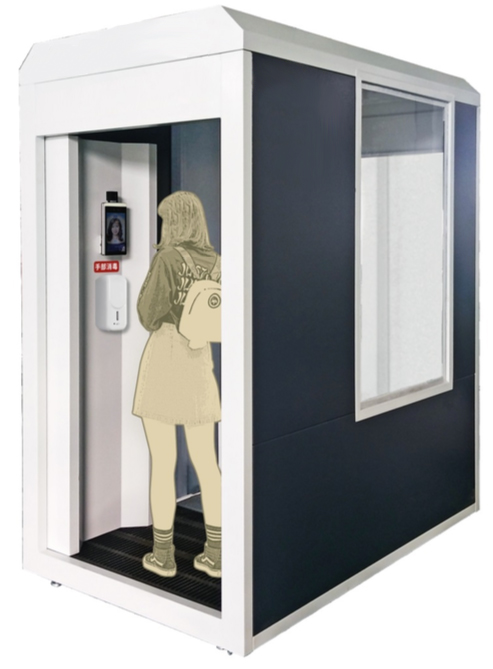 Integrated, intelligent and movable, this product it is specially used in public health emergencies. It sprays and disinfects the surface of people, pets, goods and other objects that pass in and out of fixed crowded places such as office buildings, communities, schools and other personnel.
It carries out non-contact body temperature detection for personnel. It can quickly approve the identity of personnel and quickly, simply, safely, intuitively and accurately monitor and judge whether there is abnormal body temperature. in case of abnormal conditions, i.e. the temperature of personnel is higher than the set temperature, the channel will intercept personnel and give voice alarm.
Infrared body temperature detection
Abnormal body temperature warning
HD dynamic face recognition camera
Large capacity list storage
Cloud data storage, big data analysis more secure
Fast recognition, high accuracy
Stranger warning, blacklist management
Intelligent voice alarm
Automatic induction spray
Waste collection, safe and environmental protection
Passageway is automatically illuminated for night use
With brake universal wheel, easy to stop and move
This product is suitable for schools, kindergartens, stadiums, hotels, office buildings, entertainment venues, factories and other crowded places during the epidemic period.
It is convenient for rapid screening of patients with fever symptoms, so as to reduce infection and epidemic spread, improve prevention and control efficiency, reduce the workload of staff and reduce the infection risk of staff.
This equipment can automatically sense the objects entering and leaving the channel, display the running state in real time, and the spray quantity and spray time can be adjusted. Food grade disinfection products is recommended to ensure personal safety in application.
Equipped with a universal wheel with its own brake to facilitate rapid mobile deployment during emergency; Beautiful appearance, scientific design, disinfectant waste liquid can be recycled by itself.
Product Parameters
| | |
| --- | --- |
| Overall Dimensions | 236(H) * 180(L) * 120(W) cm |
| Channel Size | 188(H) * 180(L) * 100(W) cm |
| Detection Distance | ≤ 0.4m |
| Minimum Resolution | 0.1°C |
| Temperature Measurement Accuracy | ± 0.5°C (at room temperature) |
| Temperature Measurement Range | 0°C ~ 45°C |
| Work Enviornment | 0°C ~ 45°C |
| Net Weight | 300Kg |