The Ultimate Innovation in Drone Detection Radar
Miltronix's suite of state-of-the-art Air Surveillance Radar options are designed to fill critical gaps in air surveillance to protect national borders, vital infrastructure and other critical high value assets. These sophisticated solid-state Drone Detection Radar is specially designed to detect, locate, and display Drones of various sizes that might be flying within the Radar's area of coverage.
The flexibility in design offered by these radars enables them to detect fixed and rotary wing drones of various sizes. These radars have the capability to effectively and efficiently detect all kinds of Drones including those with low RCS with validation provided by a sophisticated high resolution long range Electro / Optical sensor. The Miltronix Drone Detection Radar can be integrated with a range of Anti-Drone systems.
The advent of Drones and their extensive use in recent times have created a challenge for existing radar systems, which have traditionally specialized in detecting and tracking civilian and military aircraft and helicopters. Further, Drone designs now include stealth features to further minimize detection, which is in addition to their use of composite materials. This has resulted in the fact that even large Drones now have an RCS of that of a bird, which traditional radar systems are not designed to detect. To add to the challenge of detection by traditional radar systems, a Drone moves in a more random manner than traditional aircraft, and at low to medium altitudes with varying speeds.
To detect modern Drones, a sophisticated and sensitive 3D radar is required that can detect very low RCS flying objects, including those that are low flying. It is essential that the system should also be capable of providing real-time alerts in declared threat zones, and archiving data for future analysis and reporting. Miltronix Drone Detection Radar provides all this along with a built- in high resolution, long range Electro-Optical sensor for validating the Radar detected targets.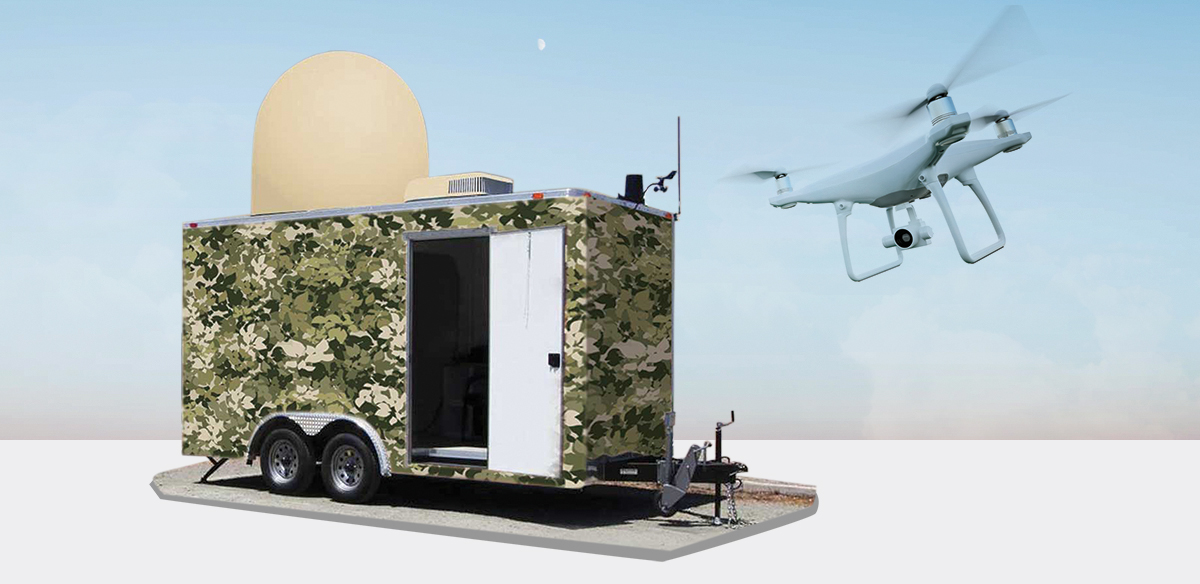 Drone Detection Radar – Salient Features
Advanced Doppler Radar

Capability To Detect & Monitor Non-Conventional Air Targets Like Drones

Target Differentiation and Validation Using High Resolution Long Range E/O Device with a Range of up to 4 Kms

Fully custom designed option to Detect and Monitor Drones

Fully Solid State and Fully Coherent Radar

Covers Entire Surveillance Airspace in 3D

Electronically Scanning Vertical Multi-Beam Array Antenna

Unique Continuous 3D Digital Zoom

3D Clutter Mapping Feature

In-built GPS based, Automatic GIS Mapping Engine

Scan >100 targets Simultaneously
Customized software capable of:

Radar Data Processing
Target Detection & Monitoring
Clutter Removal
Data Display & Integration into ATC and C4I Systems
Countermeasure Systems
Data Archiving for future analysis
Data Analytics

Live Zoom / Spotlight Feature in Display

Threat Warning via Alarm Zones
Drone Detection Radar – System Specifications
| | |
| --- | --- |
| Radar Frequency: | X Band |
| Radar Target Detection Range: | 10 KM |
| Drone Validation Range: | 4 KM |
| Range Resolution: | 50 m |
| Range Accuracy: | < 50 m |
| Antenna Gain: | >41 dB |
| Elevation: | Multi Beam, Electronically Scanning |
| Elevation Coverage: | > 42° |
| | |
| --- | --- |
| Azimuth Coverage: | 360 Degree with sector Blanking Option |
| Revolutions Per Minute: | 6 RPM |
| Multiple PRF: | Yes |
| Multiple Pulse Width: | Yes |
| CFAR: | Yes |
| Max No. of Targets Detected: | Up To a 1000 |
| False Tracks: | PD 1E10-5 |